VAM STUDIOS PERFORMANCE OPPORTUNITIES
WANT TO PERFORM?
Read below to find out more about VAM Studios' performance opportunities!
VAM Studios presents two end of semester concerts; one in December and one in June to give the students a chance to share the fruits of their hard work and dedication, to showcase their skills, passion, and joy with family, friends, and community. These performances are truly inspiring; they create lifelong memories and experiences for the students, teachers, and audience members alike. 
The VAM Studios vision, DREAM-CREATE-INSPIRE, is fully realized through these performances: from brainstorming ideas with the students in class (Dream), to the dedicated work of learning the dances (Create), to sharing it with the audience (Inspire). The entire process promotes an understanding of goal setting, dedication, teamwork, personal growth, and perseverance, as well as building each dancer's confidence and self-esteem.

We look forward to seeing your dancers on stage!

Come back soon for information about our 2018 winter show:
WINTER IN VAMLAND!
Our Amazing Memories
Scroll down to see some of our awesomely fun experiences!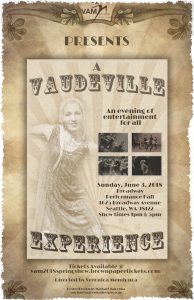 VAM Studios Spring Show 2018
A VAUDEVILLE EXPERIENCE
June 3, 2018 1:00pm & 5:00pm
Broadway Performance Hall
VAM Studios presents "A Vaudeville Experience". A magical show featuring tap, ballet, contemporary, jazz and hip hop dance! Conceived and directed by Veronica Mendonca, "A Vaudeville Experience" is a visual and aural feast. A modern take on an iconic moment in America's history, "A Vaudeville Experience" is filled with dance, live music, stylized costumes, humor and fun for all ages! World renowned tap dancer Mark Mendonca will be performing as well as other professional dancers and singers and the awesome students of VAM Studios!
VAM In Performance – VIP's
Harlem Globetrotters – Pre-show
December 29, 2017 5:00pm
Key Arena
What is better than seeing the world famous Harlem Globetrotters? Watching a pre-show performance by VAM Studios' own VIP Performance Team.
Purchase tickets on the Key Arena website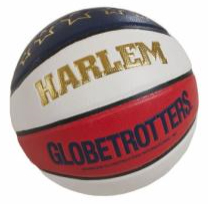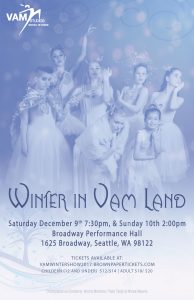 Winter in VAMLand!
Saturday, December 9, 2017    7:30pm
Sunday, December 10, 2017    2:00pm
Artistic Director Veronica Mendonca welcomes you to join the amazing students of VAM Studios for their dazzling 2017 winter production "Winter in VAMland!" Audiences will experience tap dance, ballet, contemporary, and jazz dance in this show that pays homage to the most wonderful time of the year. The show features both students and professional special guests in an unforgettable night filled with dance, live music and fun for all ages!!!
Click here for the Show Program.
A Roaring 20's DanceEasy Soiree
December 17 and 18, 2016
Broadway Performance Hall